Tiny House on Wheels (THOW) – Buying Process

Here is a checklist of the steps we go through to make your THOW a reality!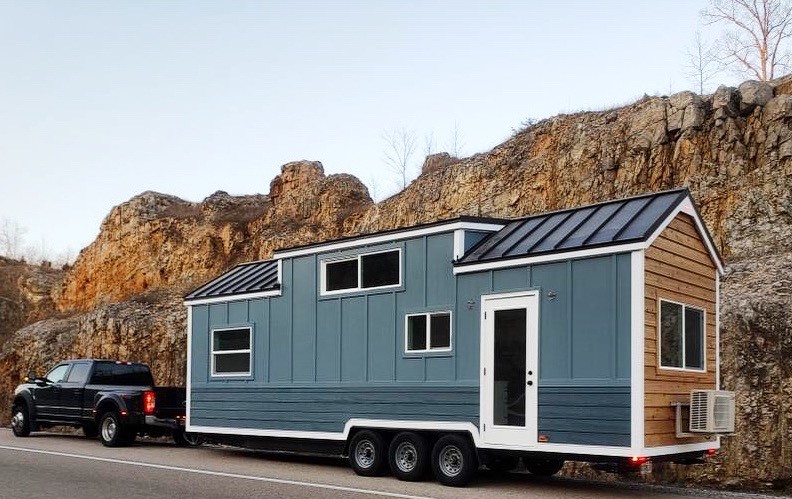 Placement
Determine model and get a General Quote
Payment and Financing verification
Planning & Design
Build Order Agreement
The Build (Build process, home site utility infrastructure, inspection & certification)
Transport/Delivery
Setup on site
Utility Hookups
Home site considerations
Explanations for your checklist:
Placement verification: The first thing you need to do is to make sure you can legally place your new tiny house on wheels where you want to.

Private property: If placing on private land, you will need to check with your local planning & zoning office to verify placement allowance. Most municipalities (cities/counties) have planning & zoning rules that govern what types of structures can go where. You can usually find out quickly by visiting or contacting your local Planning & Zoning office. When you contact them, try to speak to someone in charge, or close to the top. Tell them where your property is and that you would like to place a THOW Home on your property. It is usually best not to use the term "Tiny House" because they will form a mental picture of an RV. Although a THOW is legally still considered an RV, once you show it to them they will realize this is a more permanently placed structure. Even though we build them like a house, they still fall under the IRC-Appendix Q building code. Appendix Q provides tiny home builders with "smaller options". But you will still have to verify legal placement. If you find that you have legal issues with placement, it may be best to look at a modular or park model option.
RV/Tiny Home Communities: Another great placement resource where THOWs are usually accepted is in tiny home and RV communities. Your certification will provide you the home credentials you need to gain acceptance.

General Quote:

Model: Choose a Model and get a ballpark estimate to make sure you are in your price range for what you need.
Transport: We can assist in getting you a quote for transport of your new home from our shop in Buford, GA to your home site. Or you can pick it up and tow it yourself. Make sure you have a truck capable of hauling the weight of a tiny house. An F150 or like-class truck is not big enough. Depending on the size of your THOW, you will need at least an F250 or F350. You can also tow your tiny house with a U-Haul box truck rental.
Setup: We can also get you a quote for setting up your home once it arrives. This includes: leveling your home, placing footers and cinder block piers down both sides of your home and anchoring your home to the ground using steel straps even placed on both sides, down the length of your home. Or, we can tell you how to do this yourself to save money.

Payment and Financing:

Cash: If you are paying cash, then our payment process normally functions on a 40/40/20 method. A 40% down payment will schedule and begin your build. With your down payment we will build your home to dry-in status with doors, windows and rough-in utilities. Once your home is dried-in, we draw another 40% with which we complete your build. The final 20% is due upon completion.
If you are financing, you can use your general quote we provide to apply for your THOW loan. Our finance company can usually get you an answer and loan offer within a few days. Currently they have loans as low as 5+ % APR, as low as 10% down and up to 23 years. Their APR has recently gone down. We can provide you with a rate chart which will help you identify your loan package details. Once your loan package is approved, we can schedule your build with your down payment required by your loan agreement. Once the home is built, we receive final payment of the balance from the finance company directly.

Planning & Design: Our planning & design consultation (P&D) starts with a two hour meeting either using a shared desktop session like Zoom Meetings or in person. During this meeting we will go over a checklist of features, options and other details needed to make this house your home. Then we get busy with the fun! We will create:

CAD designed floor plans, elevations and 3D views of your home
A detailed itemized cost estimate.
A parts and materials list with allocations, model numbers and links to source.
Provide you a soft building schedule.
NOTE: The entire P&D usually takes us about six weeks. Currently our cost for P&D is $650 to $750 depending on the customization of your design. When we contract for your build, your P&D cost you paid will be applied as partial payment toward your build.
Our estimate pricing method creates a detailed itemized list of costs to build your home. We even include links with model numbers for consumer products so you can see where we source and what it costs. Then we add our profit and overhead at the bottom in the open. This gives our clients a clear view of where they are spending money so you can make buying decisions and even shop for alternatives where possible.

Build Order Contract: Once we have completed your P&D and the details and cost of your home is agreed upon, we can proceed to our Build Agreement. Normally, we will receive a down payment for your build at this time or shortly after. Once your down payment is received we will hard schedule your build for our next opening.
Build (Usually about 8-10 weeks): Mustard Seed uses Buildertrend production software to manage your build. This awesome tool allows you to have a private portal to track your build schedule, payments, invoices, change orders and all your build related documentation. Another awesome tool this provides is continuous pictures and video updates throughout the build which are uploaded to your portal and are available via mobile app or computer. This feature provides you a full record of your build as it progresses. It basically puts you in the shop and provides a permanent record of your home build.
Transport: Transport of a THOW home can be handled by a professional hauler. Because of its standard RV size conformity it can be hauled by a pro or, by you!. Costs for professional transport varies depending on the company used and runs from $3 to $5/mile. The companies we rely upon usually charge an average of $3 to $4.50/mile. Be sure your transport company is familiar with transporting homes such as these and have the proper licensing and insurance to protect your investment. We can assist in getting you a quote for transport of your new home from our shop in Buford, GA to your site.
Setup (approx 1 day, approx $1500-$2000): Professional setup of a THOW on-site usually consists of leveling your home, placing footers and cinder block piers down both sides of your home as a foundation underneath your two steel i-beams that run the length of your home. Then your home is anchored to the ground using steel straps even placed on both sides, down the length of your home. The anchors provide protection against wind. Although, you also do all this yourself and save a lot of money. The tie downs are options for THOWs.
Utility hookup Once your home is properly set up, it is time to hook up your electricity, plumbing and propane (when applicable).

For private property placement, this means having power, water and drainage resources run from wherever they are on the property to your home site before your home arrives. Then having them connected to your house after setup. Usually this is done in two steps.

Have utility resources run on your property to the home site. This is done while your home is being built.
Once your home arrives and is placed, the previously installed utilities are connected to your home.

For RV and tiny house communities, your utility hookups should already be installed prior to your home's arrival. Once your home arrives and is placed, the on-site RV utilities are connected to your home using either RV hookups or stub out connections to the property utility.
The type of utility hookups on your house will be determined during P&D for the needs of your project. They will either be stubbed out like a regular house, or fitted with our standard RV connections.

Home site considerations: Once your home is setup with utilities connected, your home is ready to live in! At this point you can consider other options on site such as decks, fire pits, awning and skirting to go around the bottom of your home.
These days, there are many skirting options available that look like stack stone, river rock, brick and others. It will make your home look like it was built there.
You can also add stairs to access home from the property, add lighting, etc. All the little details that make your house a home.
Please note: We understand that this list of action items can be a bit overwhelming. Good grief…most of it uses terms and stuff most people have never even heard of before. But let us assure you that we will be doing most of this for you. The areas you will be most directly involved with are regarding your financing and placement details. Still we will be assisting you through those as well to help make sure you get what you need. We will even coordinate with your these providers to make sure they understand what you need. This process is a step by step solution to getting where you want to be. And it works. Rest assured we'll be there every step of the way. Please feel free to contact us with any questions you have and we'll be happy to help! And remember..Big Change Starts Small!
Also please follow us on Facebook or Instagram to stay up to date on our progress and events.
---
---
Tiny Home Models
Get a Tiny House Quote
---