Modular Tiny House – Buying Process

---
---
---
Get a Tiny House Quote
Tiny Home Models
---
Here is a checklist of the steps we go through to make your Modular Tiny Home a reality!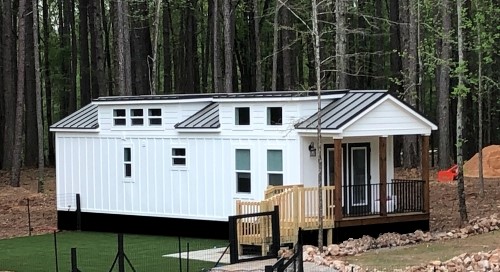 Placement
Determine model and get a General Quote
Payment and Financing verification
Planning & Design
Build Order Agreement
Drafting, Engineering & State Modular Approval
The Build (Modular home build process, local home site utilities & infrastructure)
Transport & Installation
Utility Hookups
Home site considerations
Explanations for your checklist:
Placement verification: The first thing you need to do is to make sure you can legally place your new modular tiny home where you want to. When placing on private land, you will need to check with your local planning & zoning office (P&Z) to verify placement allowance. Most municipalities (cities/counties) have planning & zoning rules that govern what types of structures can go where. You can usually find out quickly by visiting or contacting your local Planning & Zoning office. When you contact them, try to speak to someone in charge, or close to the top. Tell them where your property is and that you would like to place a small modular home on your property. It is usually best not to use the term "Tiny House" because they will form a mental picture of an RV. Which is usually not allowed as a residence on private property. Instead simply tell them you wish to place a small modular home on your property. A modular home is typically viewed by your local building safety department just like a stick built home that is built on-site. This is because of the rigorous qualification and inspection process your state imposes on all modular homes imported into your state. Just make sure they understand it is a small modular home, permanently foundationed to code on your property. Be sure to verify that they are okay with your smaller square footage. Our modular tiny homes usually have 620 to 750 square feet of heated and air conditioned space on the main level. There is no need to discuss with them details about the loft or porch. Contact us if you need assistance speaking to your P&Z official.
General Quote:

Model: Choose a Model and get a ballpark estimate to make sure you are in your price range for what you need.
Transport: We can assist in getting you a quote for transport of your new home from our shop in Buford, GA to your home site. We just need to know the destination. This is also included in our price for your home.
Setup: We can also get you a quote for setting up your home once it arrives. This includes: leveling your home, placing footers and cinder block piers down both sides of your home and anchoring your home to the ground using steel straps even placed on both sides, down the length of your home. The cost for this service will vary by state in the $4k range. This is also included in our price for your home.
Utility: If you are setting up a new home site, you will need to make sure you have the electricity, sewer/septic, fresh water and if you need it, propane/gas. Typically this is a two part process. 1. Get utility on the property close to the home site; 2. Connect the utility to the house once it arrives.
We can provide you with a floor plan and utility diagrams for your model so you can begin getting quotes from your local trades for these much needed services on your property. If you already have your utilities on site, you just need to get a quote to bring them to where your home will be then connect them once the home arrives.
Foundation: Although the final decision is determined by your local municipality, we recommend a footer/pier foundation for our homes whenever possible. We can provide you with a sample foundation plan so you can obtain a quote from a local contractor to prepare footers on your home site prior to the arrival of your home on the property. Once your home arrives, it will be set up using concrete block piers which are set on the footer prepared earlier by your contractor. Please see Setup below for more information about how your home is prepared on these footers.
NOTE: while there are other professional fees involved with building your home, these will be line itemized in your General Quote and are included in the cost for building of your new modular home.

Payment and Financing:

Cash: If you are paying cash, then our payment process normally functions on a 40/40/20 method. A 40% down payment will schedule and begin your build. With your down payment we will build your home to dry-in status with doors, windows and rough-in utilities. Once your home is dried-in, we draw another 40% with which we complete your build. The final 20% is due upon completion.
Financing: If you are financing, you can use your general quote we provide to apply for your modular loan. Our finance company can usually get you an answer and loan offer within a few days. Currently they have loans as low as 4.5% – 6+%+ APR, as low as 10% or less down and up to a 30 year term. Their APR has recently gone increased. 21st can provide you with a rate chart which will help you identify your loan package details. Once your loan package is approved, we can schedule your build with your down payment required by your loan agreement. Once the home is built, we receive final payment of the balance from the finance company directly.

Planning & Design: Our planning & design consultation (P&D) starts with a two hour meeting either using a shared desktop session like Zoom Meetings or in person. During this meeting we will go over a checklist of features, options and other details needed to make this house your home. Then we get busy with the fun! We will create:

CAD designed floor plans, elevations and 3D views of your home. Photorealistic 3D renderings are also available at additional cost. But these are not needed to accurately show your design.
A detailed itemized cost estimate.
A parts and materials list with allocations, for consumer items we provide model numbers and links to source.
Provide you a soft building schedule.
NOTE: The entire P&D usually takes us about four weeks. Currently our cost for P&D is approx $700 depending on the customization of your design. If your design calls for unusual customization we will let you know well ahead of time if additional cost is anticipated. When we contract for your build, your P&D cost you paid will be applied as partial payment toward your build.
The outcome of our P&D will also include a detailed itemized estimate to build and deliver your home. Our hard cost estimate pricing method creates a detailed list of costs to build your home, including parts and model numbers for consumer products so you can see where we source and what it costs. Then we add our profit and overhead at the bottom in the open. This gives our clients a clear view of where they are spending money so you can make buying decisions and even shop for alternatives where possible.

Drafting, Engineering & Modular review: Once your home is designed, priced and approved we are ready to move forward with the details of your building plan set. This step consists of three primary tasks. Drafting, Engineering and Modular approval from our Third Party Modular Inspection firm. All of these costs will be known ahead of time. You can usually include this cost in your loan, but will need to be paid out of pocket and recovered by you from your loan. This is because these are costs to outside, independent professionals.

Drafting (approx 2 weeks): A complete plan set is created by our modular drafter. Custom made to the modular building requirements of your state. Complete with all the details needed to pass the state modular building requirement and the state's third party inspection oversight. This step costs differently for different models and is based on the design plan created and approved by you during your P&D. We try to reserve about $1400 in our pricing for this step. The exact cost of this step will be known well before going to contract.
Engineering/PE (approx 2 weeks): Our engineer who is licensed in your state will work closely together with us and our drafter to ensure the structural integrity and design of your home meets with all applicable modular building requirements for your state. Once complete our PE will stamp/Seal your plan set for final review by our third party engineering and inspection firm. The exact cost of this step will be known well before going to contract.
Third Party Engineering and Inspection (approx 3 days): Our 3rd party inspection firm will review the entire plan set on behalf of your state to make sure all applicable building safety codes are met prior to submitting your plan set to your state's modular approval department for final modular home plan set approval. The exact cost of this step will be known well before going to contract.

State Modular Approval (approx one week depending on the state, cost varies by state): This step involves your state's modular approval program. The entire plan set for your home must be approved by your state to meet all laws and guidelines they set for safety, structure, materials and fabrication methods. Without this, we cannot proceed. This process can take from two weeks to 6 weeks depending on the state. Once this step is completed, we can begin your build with the approved plan set. This same plan set will be used when we are inspected by the third party inspection firm at various stages of your build. In the end, they will certify that your home is built to the prescribed requirements of your state so we can import your home and deliver it to your home site. Your home will be labeled and display a data plate verifying all legal requirements are met. The exact cost of this step will be known well before going to contract.
Build Order Agreement/Contract: Once we have completed your P&D and the details and cost of your home is agreed upon, we can proceed to our Build Order Contract. Normally, we will receive a down payment for your build at this time or shortly after. Once your down payment is received we will hard schedule your build for our next opening. The cost of your build is clearly defined here as a result of your P&D.
Build (Usually about 8-10 weeks): Mustard Seed uses Buildertrend production software to manage your build. This awesome tool allows you to have a private portal to track your build schedule, payments, invoices, change orders and all your build related documentation. Another great feature of this tool are the continuous pictures and video updates throughout the build which are uploaded to your portal and are available via mobile app or computer. This provides you a full visual record of your build as it progresses. It basically puts you in the shop and provides a permanent record of your home build. Inspection during build: Also during your build, we will be inspected by the third party inspection firm to ensure all plan set requirements are met. All our builds are tracked throughout each of the 24 stages of your build using a state approved quality control and compliance system (Q.C.) to ensure quality of materials, method and craftsmanship. Our Q.C. system is also inspected and approved by the third party engineering & inspection firm. Nothing is left to chance.
Transport: Transport of your modular home must be handled by a professional hauler. Because of it's over-dimensioned size status and its weight, a modular must have a permit for each state it passes through. Costs for transport varies depending on the model and company used. Costs run about $10/mile. You want to be sure your transport company is familiar with transporting homes such as these and have the proper licensing and insurance to protect your investment. We can assist in getting you a quote for transport of your new home from our shop in Buford, GA to your new home site.
Setup (approx 1 day, quoted by project): Setup of a modular on-site usually consists of leveling your home, placing footers and cinder block piers down both sides of your home as a foundation underneath your two steel i-beams that run the length of your home. Then your home is anchored to the ground using steel straps even placed on both sides, down the length of your home. The steel anchors connect to long auger screws driven deep into the ground and provide protection against wind loads. Final cost can vary depending on local contractor expense.
Utility hookup (approx 1-2 days, priced locally by your licensed contractors): Once your home is properly set up, it is time to hook up your electricity, plumbing and propane (when applicable) to the local utility. The exact cost of this step should be known well before going to contract.

For private property placement, this means having power, water and drainage resources run from wherever they are on the property to your home site before your home arrives. Then having them connected to your house after setup. Usually this is done in two steps.

Have utility resources run on your property to the home site. When needed, these infrastructure costs were quoted by your local tradesmen earlier before you applied for your loan. This is done while your home is being built.
Once your home arrives and is placed and set up, the previously installed utilities infrastructure is connected to your home.

C.O.O. and Home site considerations: Once your home is setup with utilities connected, your home is ready to live in! At this point you can consider other options on site such as decks, fire pits and awnings. Also skirting or a curtain wall to go around the bottom of your home.
These days, there are many skirting options available. We like the one that looks like a concrete wall, simple and clean. There are also veneers you can buy that look like stack stone, river rock, brick and others. However, our recommendation is a product called Duraskirt. Duraskirt is a specialized concrete board designed and sized for your home. It's not the cheapest, but it certainly seems like the best. If you decide to go with this product, we can help! While we do not perform the local work to install Duraskirt, we can save you a lot of money on your order through our dealer account. Your order will be shipped directly from the manufacturer to you, ready for your local contractor to install. Talk to us about Duraskirt to learn more. We can also save you money on your factory direct order. It will look like your home was built on it.
You can also add stairs to access home from the property, add lighting, etc. All the little details that make your house a home.

C.O.O.(Certificate of Occupancy): Once your home is set up with utilities connected, you will need to obtain your certificate of occupancy (C.O.) from your local building safety. This is a standard practice and usually passes on the first try.
Home site: Your home is ready to live in! At this point you can consider other options on site such as skirting to go around the bottom of your home. These days, there are many skirting options available that look like stack stone, river rock, brick and others. It will make your home look like it was built there. You can also add stairs to access your porch from the property, add lighting, decking, etc. Also consider adding gutters, additional decking/stairs, driveway, etc. All these extra items will need to be performed by a local contractor. But are sometimes overlooked by our clients during planning. So be thinking about these costs.
These costs are usually smaller, but it all adds up. We'll be happy to collaborate with you on any of your needs. We'll also be happy to offer any advice we can. It's all part of helping you make your house a home.
Please note: We understand that this list of action items can be a bit overwhelming. Good grief…most of it uses terms and stuff most people have never even heard of before. But let us assure you that we will be doing most of this for you. The areas you will be most directly involved with are financing and your property/on-site items such as foundation footers and utilities. Still we will be assisting you through those as well to help make sure you get what you need. We will even coordinate with your local contractors and providers to make sure they understand what you need. This process is a step by step solution to getting where you want to be. And it works. Rest assured we'll be there every step of the way. Please feel free to contact us with any questions you have and we'll be happy to help! And remember..Big Change Starts Small!
Warmest Regards,
Mustard Seed Tiny Homes Team
Also please follow us on our blog and at Facebook or Instagram to stay up to date on our progress and events.