The Sprout
The Sprout tiny house is designed to last a lifetime. Mustard Seed tiny homes are built like a real house with features such as kiln dried dimensional lumber framing, plywood sheathing, metal rooking, siding, Roxul insulation, low E double pane windows, hardwood flooring, high-end hardware, mini-split HVAC, water heater, 50 amp service and much more.
In addition to the tiny house model featured below, we also do custom builds! We are here to work with you to create a beautiful home that is tailored to your unique style and taste.
THE SPROUT NOW AVAILABLE IN STANDARD SIZES:
20′ Starting at $45k
24′ Starting at $54k
28′ Starting at $63k
30′ Starting at $68k
32′ Starting at $73k
Final cost will vary based on size, materials, appliances, and features you would like included.
* Please note that The Sprout Tiny House model as shown displays some upgrades such as: cedar shake exterior upper siding, double french doors, Floor to ceiling shiplap interior veneer, custom stairs with storage, 4 burner propane stove/oven, bath floor tile, bath sink, glass shower enclosure, over/under washer/dryer.
INCLUDES
– Custom tiny house trailer
– Framing (kiln dried dimensional lumber, CDX plywood)
– Moisture barrier (Tyvek housewrap and tape)
– Exterior siding (LP lap siding accent upper with smooth HD board and batten lower. Choice of color deluxe Sherwin Williams paint)
– Roof (standing seam metal roof)
– Insulation (fiberglass in walls, closed cell spray foam in sub-floor and ceiling)
– Interior veneer (trimmed out smooth grade plywood)
– Interior and exterior paint (color of your choice – deluxe Sherwin Williams)
– Flooring (engineered hardwood)
– Hardware (brushed nickel, oil rubbed bronze, etc.)
– Windows (low E vinyl windows)
– Doors (1 fiberglass exterior door & 1 residential door to bathroom)
– Mini split HVAC
– Water heater (electric)
– 2 burner stovetop (propane)
– 9 cu ft. refrigerator (apartment size/electric)
– Kitchen sink
– Custom cabinets (plywood construction)
– Ikea laminate counter tops (8 ft)
– Ladder to loft (Please note: Model shown displays upgraded stairs with storage)
– 1 piece fiberglass shower
– Ceramic sink w/ 24" vanity (bathroom)
– Flushing toilet
– PEX plumbing
– 50 AMP electrical box and RV inlet
– RV water inlet
Main Level
Loft Level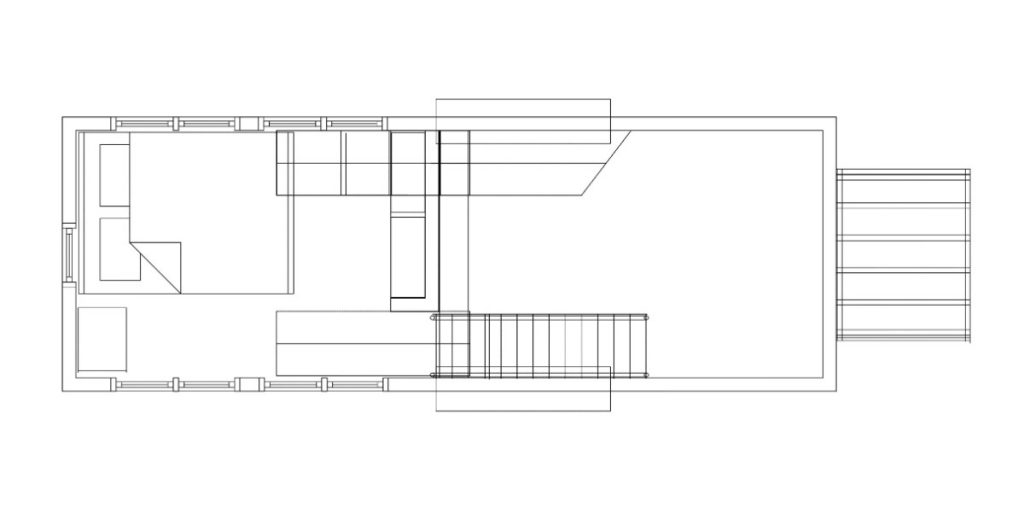 – Washer/ dryer: starting starting at $800
– Stove/Oven (propane or electric): starting at $750
– Propane Hot water Heater (OD tankless/tank): $700/$200
– Compact Dishwasher: starting at $700
– Hooded vent: starting at $400
– Composting toilet: starting at $900
– Glass shower enclosure: $900
– Stairs to loft (with storage): $2,500
– Barn door / Pocket door: $700
– Extra Loft: starting at $1,000
– French doors: starting at $750 6 panel metal/fiberglass
– Sliding glass door: $1000
– Closed cell spray foam insulation: $3 per square foot
– Fold-Down Deck: TBD
Due to the custom nature of our builds, these prices are rough estimates. More concrete numbers can be provided during our Planning & Design Consultation. During this consultation we can also review how upgrades, downgrades, materials options and features can affect staying on budget.
---
Get a Quote for The Sprout
---
Want to DIY with your own Shell?
We build Tiny House Shells for the do-it-yourselfer! Mustard Seed builds tiny homes and shells for owners all over the southeast and as far north as New Jersey. From our shop here in Metro Atlanta, Georgia we can fill tiny house orders in Alabama, Tennessee, North Carolina, South Carolina, Florida and beyond.
Learn more about our Mustard Seed shells here.
---
Back To Mustard Seed Models