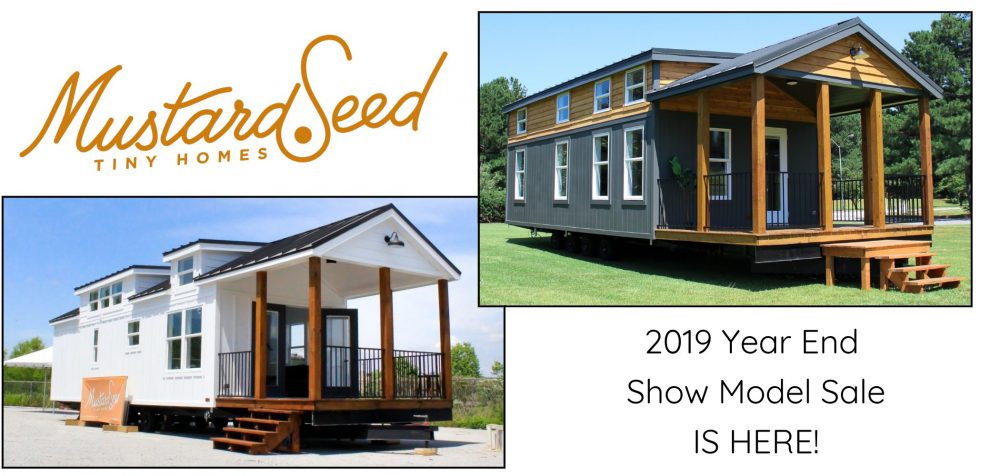 Hey Tiny House Lovers,
The moment has finally come. We are selling our 2019 Park Model tiny home show houses to make way for the next generation. So, we are selling these beautiful, high end homes at a deep discount. Have a look at the The Zion and The Jackson on sale now! 
These park model tiny homes have more features and space than other designs. But more importantly, they actually feel like a home! With these wider floor plans you will be surprised at the space you have to spread out and live. Plus, they have the upgrades and the craftsmanship that made Mustard Seed Tiny Homes so popular. Every part of these homes were designed for the tiny house lifestyle, just a bit more space. From the generous covered porches to the full size amenities, your tiny house expectations will be surpassed when you step inside these homes.
These homes are designed to be setup on property on a semi-permanent basis. These homes are designed to be placed and used as a vacation or primary home. Place them somewhere for life, or for a year or two…or five. Most important, they can be placed on a foundation and moved.
We invite you to have a look and even stop by for a tour to see them in person. If you can't come by, check out the 3D walk-through tour we have posted on their web pages.
If you're on a quest for the perfect tiny house, feel free to reach out and drop us a line! We're here to help you begin enjoying the tiny house lifestyle. Tiny living brings more peace and freedom than big house living. Whether it is the reduced cost that drives you or the drastically reduced maintenance and responsibility, these homes will deliver freedom that will improve your life in a big way.