SOLD!
This house has just been been sold. However, we can design and build one for you to suit!
This model, or one customized to your needs is what we do. This home size is a great solution for tiny house owners. 
The Zion – Mustard Seed Edition
We pulled out all the stops to bring you a larger park model tiny house, packed with features and value.
It's about 10% more cost than a tiny house on wheels of the same length, but is 65% more house!
With more space for singles, couples and small families it has something for everyone.
To learn more about The Zion, visit our web page here.
If you would like to come see The Zion in person, contact us to request a tour here.

The Zion – 3D Tour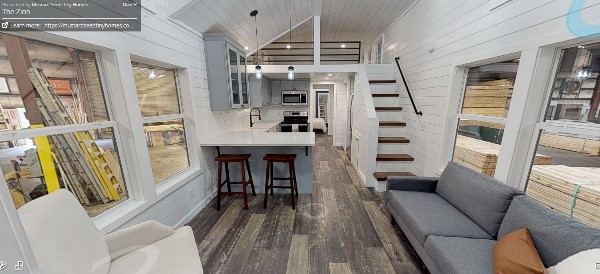 Options & Features
This home comes standard with upscale features you would expect in more expensive homes. The craftsmanship Mustard Seed has become known for shines in this beautifully designed tiny home. Features and options such as quartz counter tops, walnut desk in the office/study, french doors and much more!
Click the button below to see more of The Zion Park Model Tiny House – Mustard Seed Edition