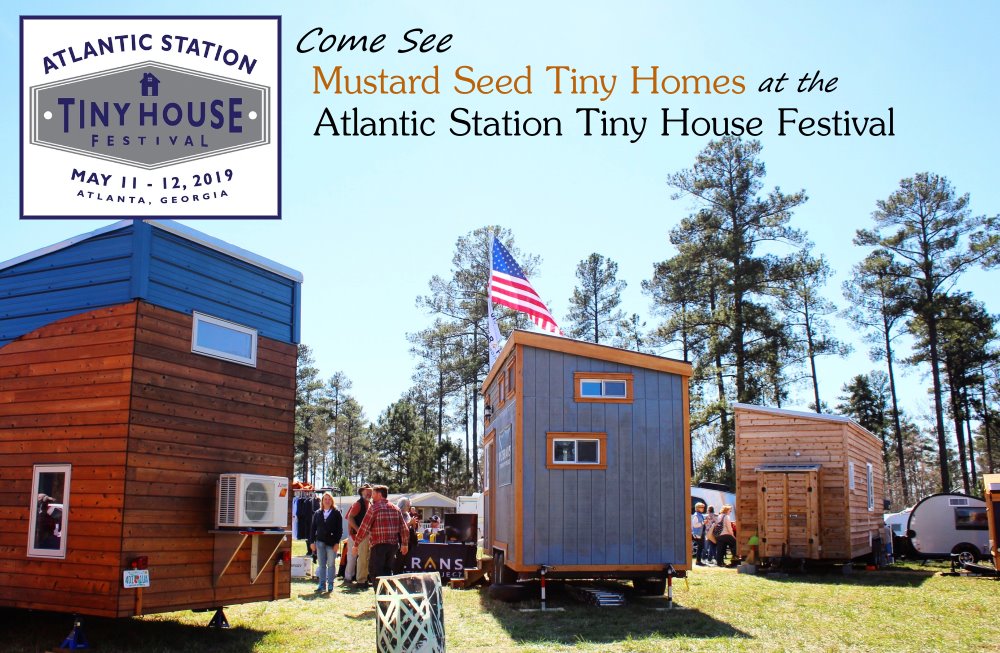 Hey Tiny House Lovers!
The Mustard Seed team will be at the the Atlantic Station Tiny House Festival the weekend of May 11th – 12th, 2019 from 10a – 6p at the Atlantic Station in downtown Atlanta.  We will be on hand along with other builders, vendors and speakers to support this year's tiny house festival. We hope to have two homes on display this year.
24′ Sprout Shell: The perfect start for the DIYers out there!
The Zion by Mustard Seed: New for 2019, this new model will redefine tiny house comfort, style and value.  These new models keep the freedom of tiny house living, with a little more space and easier to finance. For the last couple of years, we have had thousands of requests from clients describing the perfect tiny home for their family. Now, after months of planning and design, we are revealing one of these new models for the first time anywhere! For a glimpse of what's to come for tiny house homeowners, come see us at the show!
FESTIVAL INFORMATION
WHEN
Saturday, May 11th, 2019 10am – 6pm
Sunday, May 12th, 2019 10am – 6pm
WHERE
Atlantic Station, Pinnacle Lot
241 20th Street NW Atlanta , GA 30363


Tickets on SALE NOW!
General Admission: $20 Day Pass • Children age 12 and under FREE (Up to four children per paid adult)
$25 Weekend Pass
VIP: $45 Fast Access  / $55 Weekend Fast Access
For more information about the show and purchasing tickets go to: https://tinyhousefestival.com/.  Please help spread the word!
If we can be of assistance, please don't hesitate to let us know. See you out there!
Warmest Regards,
Team Mustard Seed
www.mustardseedtinyhomes.com

Did You Know!
You can stay up-to-date on our upcoming open house events and festival appearances on Facebook or Instagram. If you're interested, the "SPROUT" model featured on our website is available on AirBnb at the Lake Walk Tiny Home Community in Greer, SC! They have a dozen or so tiny houses on wheels there you can rent or walk through.
Mustard Seed Tiny Home Models: https://mustardseedtinyhomes.com/mustard-seed-tiny-home-models/
Mustard Seed on Facebook: https://www.facebook.com/mustardseedtinyhomes
Mustard Seed on Instagram: https://www.instagram.com/mustardseedtinyhomes
The Sprout Tiny House at AirBnb: https://www.airbnb.com